It is a long established fact
Lorem Ipsum is simply dummy text of the printing and typesetting industry. Lorem Ipsum has been the industry's standard dummy text ever since the 1500s, when an unknown printer took a galley of type and scrambled it to make a type specimen book. It has survived not only five centuries, but also the leap into electronic
땀과 공기가 통하는 숨 쉬는 전자피부

February, 2018 , Posted by Donga science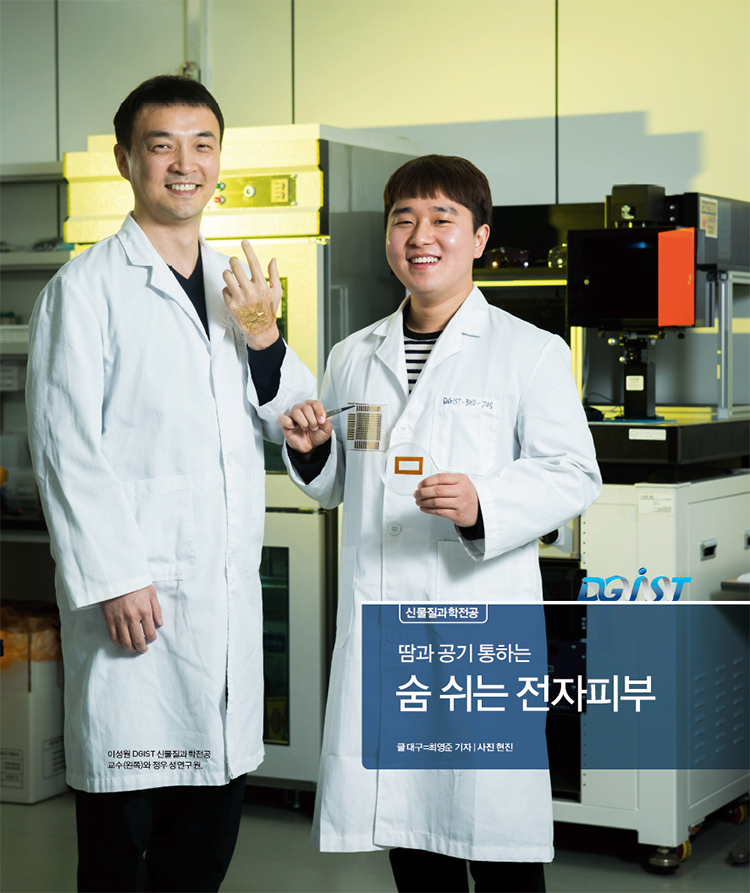 "타투 스티커처럼 붙였다 떼기만 하면 됩니다."

대구경북과학기술원을 뜻하는 'DGIST'라는 단어가 금색으로 새겨진 흰색 물질이 적갈색 필름에 붙어 있다. 흰색 물질은 한지 같은 질감에 두께는 훨씬 얇아서, 불투명한데도 뒷면에 있는 물체의 윤곽이 보일 정도다. 가로가 약 4cm, 세로는 약 2cm인 직사각형이다. 손등에 물을 묻히고 필름을 붙였다 떼니 'DGIST'라는 글자와 흰 물질만 피부에 달라붙었다. 이내 흰색은 사라지고 문구만 남았다. 이성원 신물질과학전공 교수팀이 개발한 '숨 쉬는 전자피부'다.
A Sensor on Your Skin That Looks and Feels Like a Temporary Tattoo

July 20th, 2017 , Posted by NY.Times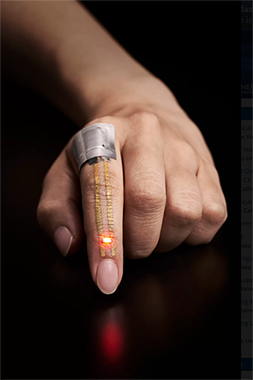 Temporary tattoos aren't just for style anymore. Scientists have developed a new wearable sensor that looks and feels like a henna tattoo but can monitor electrical muscle activity and body temperature, too.

In a paper published Monday in Nature Nanotechnology, researchers described a new ultrathin, lightweight, breathable sensor constructed from nanoscale mesh, a spaghetti-like entanglement of fibers a thousand times thinner than a human hair. It can monitor vital signals over a long period of time without inflaming or irritating skin, a side effect of many current devices.
Another post: July 17th, 2017 , Posted by Science Daily
https://www.sciencedaily.com/releases/2017/07/170717110502
Another post: July 19th, 2017 , Posted by Hankook ilbo
http://www.hankookilbo.com/v/5c907dcf3ecb4abbb66f2402dcc59860
Wearable electronics: Nanomesh on-skin electronics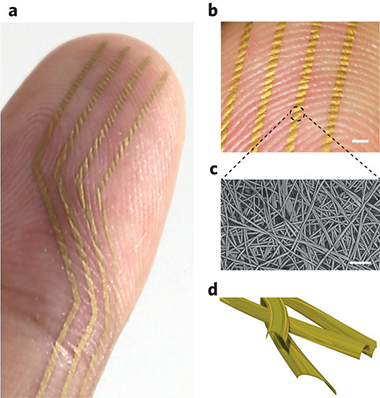 Hollow, nanoscale metal filaments in open-mesh architectures provide soft, shape-conformal electrical interfaces to the skin as the basis for high-precision, irritation-free sensing platforms.

In many clinical diagnostics, skin serves as a measurement window for quantitative assessments of physiological health. Prominent examples are in biopotential recordings that yield insights into cardiovascular activity, skeletal muscle behaviour and brain function through electrocardiograms, electromyograms and electroencephalograms, respectively.
Another post: July 19th, 2017 , Posted by DGIST
This Flexible Nano-Sensor Could Help Doctors Detect Breast Cancer
January 3rd, 2016 , Posted by Science. alert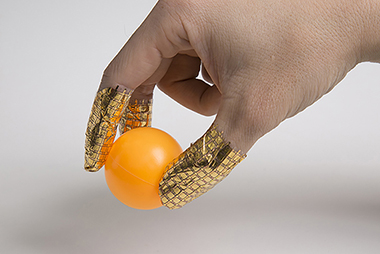 Scientists have developed a flexible and transparent pressure sensor that can maintain its accuracy even when curved around soft surfaces like human skin.
The sensor, measuring just 8 micrometers thick, can detect pressure in 144 locations at once, and might one day enable health workers to physically screen patients for things like breast cancer tumours using pressure-sensitive gloves incorporating the technology.
"Flexible electronics have great potential for implantable and wearable devices," said lead researcher Sungwon Lee from the University of Tokyo.